© South Staffordshire Narrowboat Co Ltd 2019 Registered Charity No 1000868
Supported by voluntary contributions
Member of the National Community Boats Association
Trips
All of our trips start and end at Castlecroft Lane, Wolverhampton WV3 8JU.
Trips can be tailored to suit your requirements but there are a few "standard" trips. The usual trip is from Castlecroft south down to Dimmingsdale, where we turn. Then north to either Aldersley Junction or Autherley Junction and then back to Castlecroft. This trip takes about five hours and takes us through three locks in each direction.
A slightly longer trip is to go south to the celebrated Bratch Locks in Wombourne. Immediately below the Bratch there is a large picnic site where we can stop for about an hour before returning to Castlecroft. This trip takes us through six locks in each direction and takes about five and a half hours. In July and August the Bratch can be very busy and there may be lengthy delays (clicking on the photo will enlarge the picture).
If you fancy a pub meal we can go north via Autherley Junction to the canal side Anchor Inn in Coven. This takes about seven hours.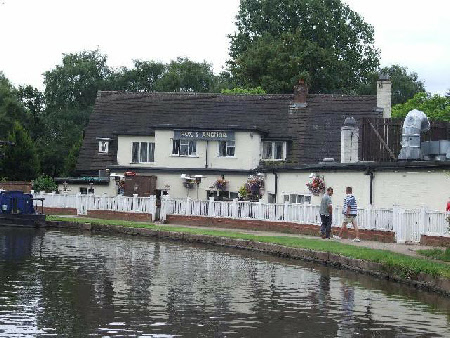 Going South we can visit the canal side Round Oak at Wombourne, about a mile beyond the Bratch Locks. This takes about seven hours.
A shorter trip would be from Castlecroft up to Autherley or Aldersley Junction, stopping in Compton on the way back to go to the Oddfellows. This involves a short walk of about a hundred yards from the canal side.
And a popular alternative to visiting a canal side hostelry is to collect fish and chips, either from Compton or Newbridge, or to bring your own picnic lunch.